This morning on Twitter Hugh Hefner reminded me that today is the anniversary of the death of Marilyn Monroe. I remember that day so clearly.
We,my family and I,were in the car on our way to our weekly Sunday picnic. I loved those Sundays but that is another story.
If you are old enough you can imagine the scene…two adults and one child in the front, four more bodies packed in the back, no seat belts and no air conditioning, the radio screeching over the wind blasting in through the open windows.
Suddenly a news bulletin, "This just in from Los Angeles California… Marilyn Monroe found dead today in her home…"
I remember the shock in the car. It is not like any of us knew her,maybe it was the loss of beauty to this world which left a sad cloud over our family outing.
I did not realize at that moment that many years later the impression of this woman would remain and I would be moved to honour Ms. Monroe in my own writing. I offer this today to say thank you to Marilyn for the wonderful light she brought to our lives if only for a short while.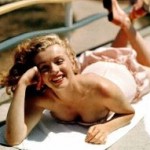 What kind of 50-year-old woman would Marilyn Monroe have been?
If Wikipedia had an entry for the light in a woman's eyes, the accompanying picture would definitely be Marilyn. But Marilyn did not make it to 50. What could she have learned along the way that would have helped her find her wisdom harvest?
(Okay, this is pure speculation. I never met the woman. But if you are going to write about the light in a woman's eyes, you have to include Marilyn.)
Men loved Marilyn's light—her smile, her sparkle—but my guess is that for Marilyn it was unconscious competence so it was not available to her as a resource in her private struggle for survival.
Perhaps not entirely unconscious—perhaps she knew that when she "sold" this light, things went well, she could get what she wanted, and other people were pleased, at least in the moment. But selling the light drained her because it was all an outflow. In the end she was quoted as saying that she was just too tired to keep going.
For the Women of the Harvest,even as their light engages those around them,it also turns back 180 degrees. It shines back inside,where it nurtures their confidence and sense of self;it re energizes them until finally it consumes the body and the light is all there is. If you have had the privilege of sharing the last days and hours of a Woman of the Harvest you will have seen this phenomenon for yourself.You reach out to hold a hand,unsure if you will actually feel its weight in your own. It is the lightness of being free.
I speculate that what Marilyn never got a chance to understand was that her beauty was not her body—not the shell,but what the shell held.
What is it that draws the light back inside for some and not for others? What I heard in my interviews suggests that for some it takes courage—the courage to fail and to find something of yourself that is worthy in the humility of failure.
For others,it takes passion and the powerful drive to survive so that the passion may be realized. For a few it seems to be a sense of mischief and humor about life that buoys them through the tough times and keeps everything in perspective. And let us not eliminate unexplainable luck, good fortune, grace.
I don't think Marilyn lived long enough to find any of those gifts within herself. It is a great loss. She would certainly have classed up the harvest festival.
Excerpted from Fifty & Fabulous; The Best Years of a Woman's Life, Watkins 2010

---
---
Comments are closed.