You are in luck…there are spaces left in the two upcoming events!
A Fifty+ Fabulation* Event
Jaki Scarcello, internationally acclaimed author of Fifty & Fabulous! The Best Years of a Woman's Life, offers women 50+ an opportunity to experience fearless aging and to explore the potential of the next stage of their lives.
Life in the senior years is a unique and fulfilling stage of human development. The sooner you educate yourself about what this stage of life offers the better prepared you will be to embrace its gifts.
The Beverly Hills Country Club
Los Angeles
Sunday, September 26, 2010
9:30-4:30
or
The Elmwood Spa
18 Elm St, Toronto
Thursday October 7, 2010
9:30-4:30
Please note prices for both events have recently been reduced
The Objectives of the Day:
• To answer the questions that haunt women coming to terms with the changes that result from aging:
" What is this aging thing about, anyway?"
"How has the girl in me grown up?"
"How do I want to live at this age?"
"What is my role/ purpose in life now?"
• To present a perspective on aging that will bring you fearlessly, fabulously and comfortably into your own skin, no matter what its make or model
• To embrace your current age and to gain the ability to welcome life as a continuously evolving and changing journey
Former Participants Say This:
"This was a life affirming experience. It will help me greatly with taking the next steps in my life."
Dianalyn 58
"A thoughtful, provocative experience that encourages women to face their futures fearlessly."
Judy 55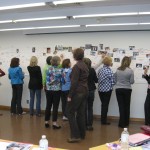 Details and Registration: at www.fiftyfab.com
Questions? jaki@fiftyfab.com
A fun and worthwhile day out with a girl friend or as a treat for yourself!
*Fabulation means to engage in the creation of fables or magical stories…in this case the story of the rest of your life.
---
---
Comments are closed.